The breathing earth
Bracelet - sterling silver, 18K yellow gold, enamel, enamel, shakudo, maple, quartz, an antique watch, plexi glass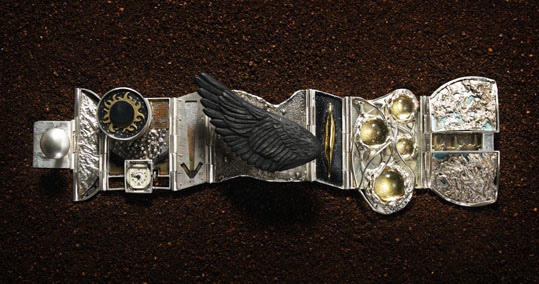 photo by Teruo Onishi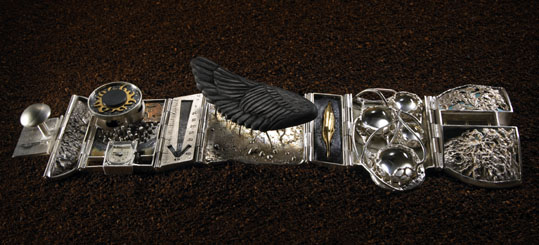 Photo by Teruo Onishi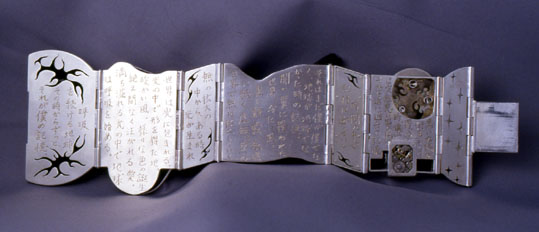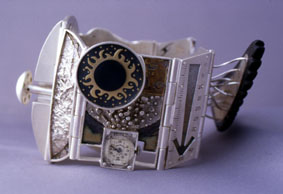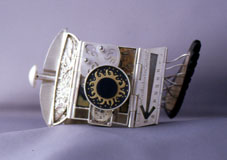 When the blackened sun covers the city, I suddenly remember an ancient memory.
黒い太陽が街を覆う時、僕は突然思い出した。 それは遠い過去の記憶。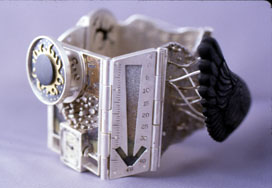 It gets clear and clear in the darkness.
暗闇の中で記憶は遡っていく。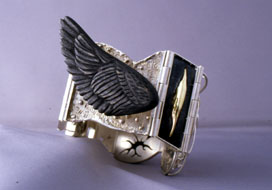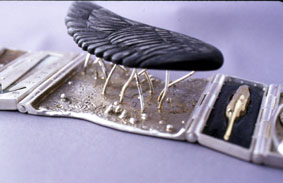 It's a memory of a time when I wasn't myself yet and the earth wasn't the earth yet...
A world covered by dark wings. A cold wind stirring. The black silence. Etarnal emptiness. An emptiness expanding in black.
それはまだ僕が僕でなく、地球が地球でなかった時の記憶。
闇の翼に覆われた世界。冷たい風。黒い静寂。永遠に続く虚無。
黒の世界で、無は拡大していく。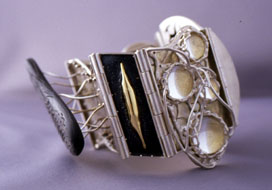 One day, a light was born to the expand void.
無の拡大の中から、ある時、光が生まれ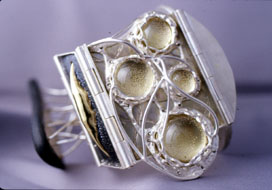 A world was then covered by the light.
The ground gained shape. A warm wind blew. Colors came to life. Love poured endlessly.
The earth started breathing in the fullness of light.
世界は光に包まれる。
その中で形を得た土地。暖かい風。様々な色の誕生。絶え間なく注がれる愛。
満ち溢れる光の中で、地球は呼吸を始める。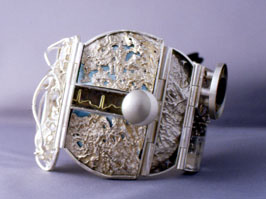 The earth has breathed caselessly from that time to now.
This is my memory.
呼吸を続ける地球。
その時からずっと。
それが、僕の記憶。
Expanding Universe
Chocker - sterling silver, pearls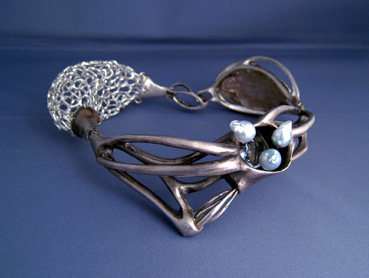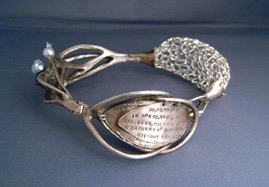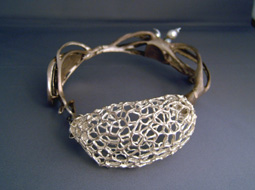 Somewhere in space There is a hall Long, cold and empty
And it vacumes up everything without a sound
Somewhere in space There is a hall Dark, black and endless
And it vacumes up feeling spent and memories lost
These 'halls' are one and the same When feelings and memories enter here
A person ages and the universe expands
宇宙のどこかに 穴がある   それは長い、冷たい、空っぽの穴
そこに 音も無く 物事は 吸い込まれていく
人の心のどこかに 穴がある   それは黒い、終わりのない穴
そこに 過ぎ去った感情や 忘れてしまった記憶が 吸い込まれていく
実は この二つはつながっていて
人の気持ちや記憶が ヒュンとここに吸い込まれると
人はまた一つ大人に成長し  宇宙はまた一つ拡大する
Flowers in mind
Bracelets - sterling silver, enamel, 18K yellow gold